COSMETIC DENTISTRY IN KHARAR, PB
Cosmetic dentistry refers to procedures done to improve an array of dental imperfections to enhance the appearance of teeth, gums, bites, or smiles. A great smile is the most attractive feature of the face, and it is an excellent asset to your personal, business, or social contacts. A less-than-beautiful smile may decrease your confidence while smiling or speaking, affecting your personality and lifestyle. Moreover, a proper arrangement, size, and shape of the teeth provide a beautiful smile and improve the function of the teeth and help maintain good oral hygiene.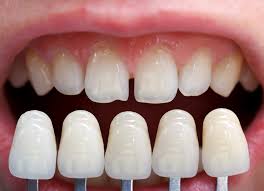 At Roots & Crown microDENTISTry, Kharar, PB, we offer a wide range of cosmetic dental services to make your smile look its best. We are proud to be a premier provider of porcelain veneers, Lumineers, crown lengthening, gum and tooth recontouring, bonding, and Zoom teeth whitening. Our team is committed to providing you with exceptional dental care!
Cosmetic Dental Procedures
Cosmetic dental procedures change the appearance of a person's teeth, whether through repairing natural tooth defects or changing the way they look using cosmetic treatment. Our dental team at Roots & Crown microDENTISTry, Kharar, PB, offers a variety of cosmetic dental solutions to enhance your smile.
Although many people may think that cosmetic procedures are purely for aesthetic purposes, they can also improve your overall dental health and help prevent a future dental emergency by ensuring that your teeth are strong and function properly.
Whether your dental goals are functional, aesthetic, or both, we have numerous options to meet the needs of each patient.
Tooth-colored fillings
Aesthetically pleasing and durable tooth-colored fillings that reinforce the weak tooth, help prevent future damage and require less cutting of tooth structure.
Tooth Whitening Procedure
The Tooth Whitening procedure is done to lighten the color of your teeth or to lighten the extrinsic stains on your teeth. The procedure can be done In-Office which gives quick results or can be done in the privacy at your home.
Veneers
These are tooth-colored shells bonded or cemented on the fronts of your teeth to change the color, size and shape of your teeth. They may be of composite resin or porcelain.
Crowns
If teeth need more changes than a veneer or contouring can offer, dental crowns are an option. In case of damaged teeth, crowns not only provide a great appearance but also give durability, strength and stability to the teeth.
Tooth Contouring
The teeth can be reshaped by contouring the enamel of your teeth, which is the outer layer of your teeth.
IMPROVE YOUR SMILE AND DENTAL HEALTH AT Roots & Crown microDENTISTry, Kharar, PB
Whether you're looking to replace missing teeth or you want a dental experience that gives you a full smile makeover, our dentist in Kharar can provide high-quality dental care that ensures optimal oral health. In addition to cosmetic dental services, we also offer general dentistry services for the entire family at our dental practice.
Frequently Asked Question
What treatment is provided by cosmetic dentistry?
Common Cosmetic Dental Procedures and Their Benefits
Tooth Bleaching

Change their smile

Enamel Bonding

Dental Veneers

Invisalign Braces

Enamel Abrasion
Is cosmetic dentistry painful?
With the latest advancements in technology, cosmetic dentistry doesn't have to hurt.
Is cosmetic dentistry safe?
The most common cosmetic dentistry procedures are safe for most patients.
We welcome new patients to our office and would love to be the preferred dentist for you and your family. Visit your trusted Kharar dentist today for all your cosmetic dental care needs. Schedule your appointment today and start your path to a beautiful new smile!