Pediatric Dentistry in Kharar, Pb
Nowadays, children are more prone to developing cavities and other dental problems, and getting quality dental care from a reputable pediatric dentist is essential to ensure an entire life of healthy oral health. At Roots and Crown MicroDentistry, we strive to create a pleasant space for children, employing a child-friendly approach and being compassionate when we work. Our dental services for children help ensure that kids are healthy with their teeth and gums, giving them the long-term benefits of good oral health. If you're looking for a pediatric dentist to treat your family members in Kharar in PB, then you are in the right spot. Our dentists are specialists in treating children's dental issues and will make sure that your child has an enjoyable experience in the dental clinic. Additionally, we provide many different dental services that address dental health issues, ranging from routine examinations and emergency treatment. You can be at ease knowing that your child is safe in the hands of a professional.
Contact us today at 160 504 8777 for an appointment with your child.
The Importance of Pediatric Dental Care
Dentists frequently recommend that parents bring their children to the dentist to have a dental check-up when the first tooth is visible. This is because it is vital to begin dental care as early as possible to ensure that your child's teeth remain healthy and free of cavities. Here are a few reasons you should take your child in regularly for dental examinations:
It prevents cavities. Dental cavities are among the most frequent dental issues. Dental hygiene at an early age helps eliminate bacteria and plaque from your child's gums and teeth and reduces the risk of developing cavities.

It assists in the development of healthy oral hygiene habits. When you begin at an early age, it teaches your child how to take good care of their teeth and gums early to instill healthy habits that will last throughout their lives.

We can observe the development and growth of teeth. This allows early detection and treatment of orthodontic problems like misaligned and crooked teeth or bites.

It helps detect early oral health problems linked to other severe health conditions.
Contact Us for Pediatric Dentistry Services in Kharar, PB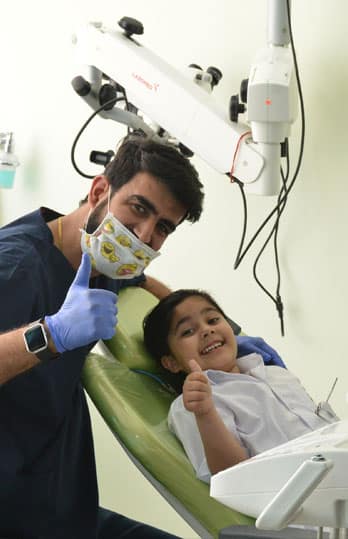 Routine Care
This basic-level care includes regular check-ups and professional cleanings
done on a 6-month schedule, essentially required to maintain good oral health and spot any signs of trouble at the earliest and treatable stage.
Fluoride Treatments
For children with developing teeth, it is important to strengthen their
teeth and it is done through Fluoride treatment.
Sealants
 If a child has repeated cavities, dentists recommend a sealant, which is providing a protective coating often on a large chewing surface of a molar. This further reduces the chances of cavities.
Restorative Dentistry
The teeth of the children may be damaged due to injury. To preserve the tooth, a filling, a crown or a root canal may be required depending on the extent of the damage.
Frequently Asked Question
At what age should I start bringing my child to the dentist?
The American Academy of Pediatric Dentistry recommends that children see a dentist by their first birthday or when their first tooth appears.
How often should my child visit the dentist for check-ups?
It's recommended that children visit the dentist every six months for regular check-ups and cleanings.
What can I expect during my child's first dental visit?
During your child's first dental visit, the dentist will examine their teeth and gums, and may take x-rays if necessary. They will also discuss proper oral hygiene habits and answer any questions you may have.
What is the best way to prepare my child for a dental appointment?
It's important to talk to your child about what to expect during the dental appointment and explain that the dentist will help keep their teeth healthy. You can also read books or watch videos about going to the dentist to help prepare them.
How can I help my child feel more comfortable during the dental appointment?
You can bring along a favorite toy or blanket to provide comfort, and encourage your child to ask questions and express any concerns they may have. You can also ask the dentist to explain what they are doing in simple terms to help your child feel more at ease.
What kind of dental treatments are available for children?
Some common dental treatments for children include fluoride treatments, dental sealants, fillings, and extractions if necessary.
How do I help my child maintain good dental hygiene at home?
Encourage your child to brush their teeth twice a day for two minutes each time, and floss daily. You can also provide a healthy diet that's low in sugar and limit sugary drinks.
How can I prevent my child from getting cavities?
In addition to good dental hygiene habits, you can help prevent cavities by limiting sugary foods and drinks, and encouraging your child to drink plenty of water.
Is fluoride safe for children?
Yes, fluoride is safe for children when used in appropriate amounts. It helps strengthen tooth enamel and prevent tooth decay.
What should I do if my child is afraid of going to the dentist?
It's important to address your child's fears and concerns and talk to the dentist about any anxiety they may have. The dentist can help create a comfortable and positive experience for your child and may offer techniques such as nitrous oxide or oral sedation to help them relax.
Ready To Start Smiling Again?